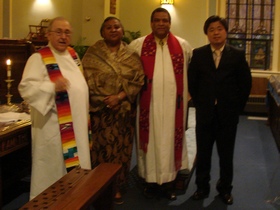 Hispanic Mission
Mision Hispana de Cristo began in the home of Pastor Allen and Hanna Ruscito in the fall of 1998 with Bible classes, English classes and a Sunday church service.
Within a few months these activities outgrew our home. And due to the kindness and vision of then Pastor John Nolan and the people of Harvey Church, we began to meet at Harvey Church on Palm Sunday of 1999.
At present our ministry extends from Long Branch to Point Pleasant, Point Pleasant Beach, Toms River and Brick. The mission is well known among the Hispanic population and public agencies and hospitals in the area.
We conduct services in Spanish every Sunday afternoon at 4:30 PM, followed by a warm supper. Our average attendance is between 35 and 40. We also conduct Bible studies and group counseling meetings as well as an ESL (English as a Second Language) program every Tuesday and Thursday evening from April to November.